Join Baxter Ford in the Fight Against Breast Cancer
Get your Pink on, Omaha!
In 2011, it is estimated that there will be 230,480 new cases of invasive breast cancer and 39,520 breast cancer-related deaths. It's time to fight back.While the entire month of October is dedicated to
Breast Cancer Awareness
, the Susan G. Komen Race for the Cure is a single day out of the year where thousands physically unite to run, walk and get involved for one reason - to find a Cure.
Ford Motors is proud to be celebrating its 17th year as a National Series Sponsor of Susan G. Komen Race for the Cure. More than 75,000 Ford employees have participated in the Race for the Cure and thousands of Ford dealers support local Komen events in their area. Baxter Ford in Omaha, Neb. is proud to be one of those dealers, and we're excited to participate for the second time as the Nebraska regional partner. There were over 19,000 participants in 2010, and we look forward to celebrating the 18th annual Race with an estimated 21,000 caring supporters.
The annual Race will take place on Sunday, October 2nd starting at the Century Link Center in downtown Omaha. Look for our Baxter Ford pink-wrapped Ford Mustang! The event is always in need of volunteers to assist with the event, and if you are inclined to help out, find opportunities to do so
here
. Can't lace up your walking shoes? You can still raise money for the cause without breaking a sweat by "Sleeping In for the Cure."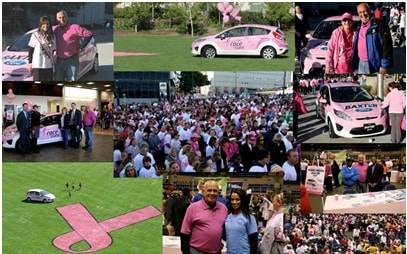 Pictured above is a collage of the 2010 Nebraska Race for the Cure, featuring Dave Weber